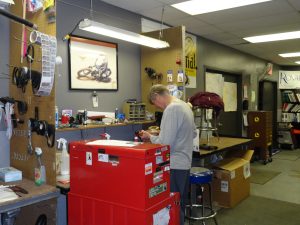 In-Field Repair Service
At All-Type Vacuum we understand that minimizing equipment downtime is imperative to any floor maintenance program. Recognizing this, All-Type Vacuum has developed the most efficient in-field service program that addresses your equipment service and repair needs. We offer complete dependable service at the lowest possible cost.
Service calls are dispatched to a service technician for a quick response (usually within 24 hours). Upon arrival, the technician troubleshoots and will give you an estimate for repairs. With approval, the technician will complete repair of equipment on the job site (subject to parts availability).
Preventative Maintenance
An All-Type Vacuum technician will perform preventative maintenance service at each store location on a pre-scheduled basis. Service will be scheduled close to the same time each month. On-site service is provided for one or more pieces of equipment.
In-House Repair Service
We take pride in the quality service we provide at All-Type Vacuum. Our technicians are trained and certified on the latest technology needed to repair equipment in an efficient and timely manner.
We offer service for both commercial and residential machines. Our technicians thoroughly check all major components of the machine and upon customer approval, will make the necessary repairs. We are a full service warranty station for most machines. Repairs covered by warranty will be charged to the manufacturer and will be at no cost to you. Repairs not covered by warranty will be charged to you at the posted rate.
Authorized Warranty/Service Center
All-Type Vacuum & Janitorial Supply is an authorized warranty center for the following Manufacturers…
Advance Floor Equipment 

Aztec

Beam 

Billy Goat

Bissell Vacuums 

Briggs & Stratton Engines 

Alto/Clarke Floor Equipment 

Currie Technologies 

EDIC Carpet Extractors 

Epps Pressure Washers 

Eureka Sanitaire Vacuums 

General and Robin Engines/Subaru 

General Floor Machine

Honda Engines 

Hoover Residential/Commercial Vacuums 

Kawasaki Engines 

Koblenz Floor Equipment 

Little Tykes 

Mercury Floor Machines 

Minuteman Floor Equipment

Mi-T-M

Nobles Floor Equipment

NSS

Oreck Vacuums

Pioneer

Pohlman Holt Floor Equipment

ProTeam Vacuums

Powr-Flite

Power Wheels

QuietKat 

Razor

Riccar Vacuums

Royal/Dirt Devil Residential Vacuums & Equipment

Simpson Pressure Washers

Tecumseh Engines

Tennant

Thoromatic Floor Equipment

Tornado

Viper Floor Equipment

Service

Betco 

Dyson Vacuum 

Euroclean 

Kent Investments

Kirby 

Kohler Engines

Mastercraft

Meile & Dewalt Powerwasher

Nacecare

Panasonic Vacuums

TomCat/FactoryCat

Windsor
If you have any further questions, our service department can be reached at service@all-typevacuum.com.